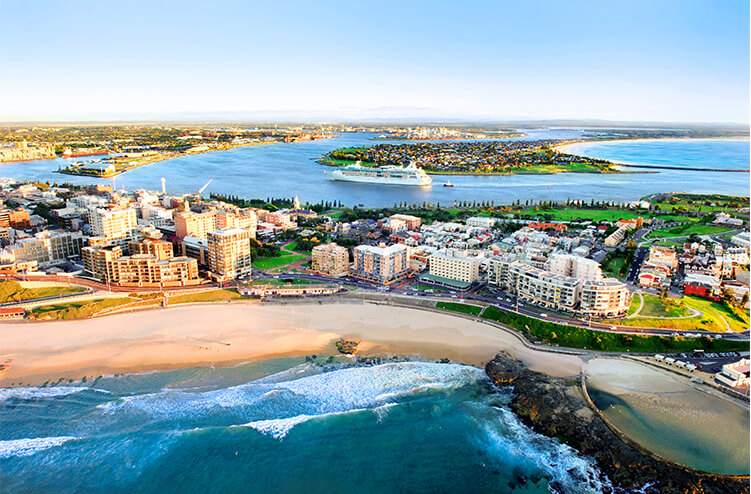 Fire Safety Officer
Job No: CN2055
Location: Newcastle, NSW
Bring your extensive Fire Safety investigative, audit, and inspection experience to local government.
Fixed term contract (24 months) – 35 hours per week.
Flexible working with optional 9-day fortnight.
Located 160km north of Sydney, Newcastle is New South Wales' second largest city, and offers the perfect lifestyle and career environment.
Our City is thriving and rapidly transforming. In recent years Newcastle has experienced a significant increase in development activity, with the 2017-18 Financial Year seeing building approvals top $1.2 billion.
Our City Change project involves moving our employees from our Office in the Civic precinct to 12 Stewart Avenue, Newcastle West in October 2019. This creates a great opportunity to align staff with our organisational vision, values and strategic directions, and leverage the great work the organisation is undertaking which supports cultural improvement.
City of Newcastle (CN) is seeking an experienced Fire Safety Officer to deliver evidence-based professional, objective, investigative and assessment service relating to the non-compliance with fire safety legislation in buildings within the Newcastle Local Government Area (LGA).
In this role you will conduct investigations into allegations of non-compliance with the National Construction Code / Building Code of Australia, and other relevant legislation in respect to fire safety.
You will carry out fire safety audits and inspections on non-compliant or high-risk premises as required, assess older buildings which are not subject to an Annual Fire Safety, and identify and apply applicable essential fire safety measures to enable the creation of a Fire Safety Schedule. Your will review Fire Safety Schedules and determine whether the listed essential fire safety measures are applicable for the building's classification and use.
Other duties include, but are not limited to, representing CN in court, preparing correspondence including memos and reports, contributing to the development and review of policies and procedures, and representing CN at both internal and external meetings, demonstrating strong communication and interpersonal skills.
At CN our people are valued and have access to a range of benefits that help balance life at work and at home. These include flexible working arrangements, professional development opportunities and health and wellbeing programs.
To be successful in this job you will have:
Relevant tertiary qualifications in Fire Safety and/or extensive experience in the Fire Safety Industry.
Extensive knowledge of the National Construction Code / Building Code of Australia, particularly the 'Deem to Satisfy' provisions relating to fire safety and essential fire safety measures.
Knowledge of the development and construction process as applicable to fire safety and relating to the issue of Construction Certificates, Occupation Certificates, Fire Safety Certificates, Fire Safety Statements and Fire Safety Schedules.
Extensive job-related experience in the inspection and assessment of buildings to identify the classification and use of buildings in accordance with the National Construction Code / Building Code of Australia, determine what essential fire safety measures should be installed and operating within a building, identify what essential fire safety measures are installed, identify any fire safety risks and determine a course of action to eliminate or reduce risks posed to the life safety of occupants and property.
Established knowledge in the identification and management of risks, development of risk assessments and identification of strategies to eliminate or reduce risks associated with fire in buildings.
Highly developed decision-making skills.
Effective analytical and innovative problem-solving skills.
An ability to work in a multi-disciplinary team environment with a strong customer service focus.
Effective and highly developed written and oral communication skills with an ability to translate technical information on fire safety issues to non-industry specialists.
Proven ability to resolve complex customer requests/complaints and provide professional advice regarding fire safety compliance matters.
The ability to manage a complex and high workload in a demanding fast paced work environment.
Excellent organisational and time management skills.
Current Class 'C' Driver's Licence.
Desirable
Proven experience and demonstrated competence in environmental planning investigation and compliance, and an understanding of the provisions of the Environmental Planning & Assessment Act 1979 and other relevant local government legislation.
Possession of Certificate IV of Government (Investigations) or its equivalent, or the ability to obtain within 12 months of commencing employment.
Proven ability and experience in the preparation of Development Control Orders (Fire Safety) and Emergency Development Control Orders in accordance with the Environmental Planning & Assessment Act 1979.
Experience and demonstrated competence in the preparation of policy, procedure and process documents in the area of fire safety.
Prior experience in the preparation of statements and giving evidence as an 'Expert Witness' in Criminal and Land and Environmental Court jurisdictions.
Sound like the perfect job for you? Apply Now!
City of Newcastle proudly promotes the principles of Equal Employment Opportunity and fosters a culture of diversity to represent the community of our Local Government Area.
All candidates will be assessed against the selection criteria outlined in the position description. Suitable candidates may be placed on an eligibility list for future identical positions for a period of 12 months.
You must have the right to live and work in Australia to apply for this job.
To view the full position description please click here.
Application Closing Date: 13 October 2019.
Remuneration: $86,679 to $94,480 + 9.5% Superannuation per annum for a 35-hour week.
Contact: Anthony Taylor, Council Investigations Officer, 02 4974 2529.