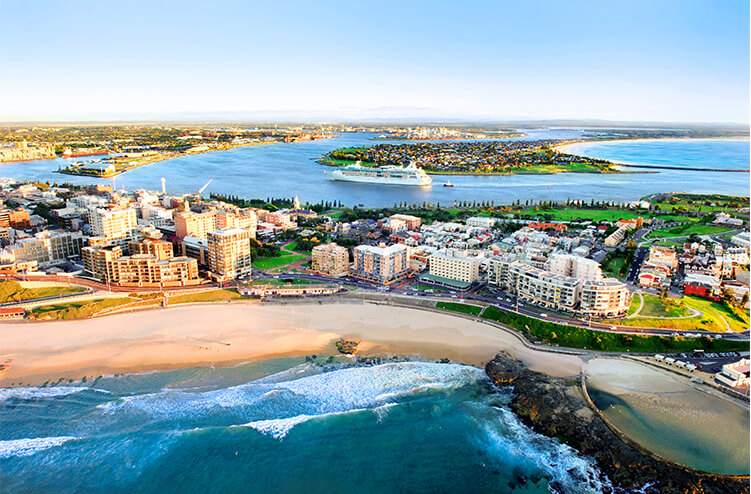 Casual Ticketing Team Member – Civic Theatre
Job No: CN2470
Location: Newcastle
Ensure a memorable customer experience at Newcastle's iconic Civic Theatre.
Provide high quality, personalised and professional ticketing services in person and over the telephone, ensuring seamless service delivery.
7 x casual employment opportunity.
Varied shifts over days, nights and weekends – availability to work on short notice required.
City of Newcastle (CN) is currently seeking customer-focussed Casual Ticketing Team Members to join the team at the iconic Civic Theatre and Playhouse.
Working as part of our broader Civic Services service unit who manage key City of Newcastle venues and cultural facilities such as Newcastle City Hall, Fort Scratchley Function Centre and Barracks, and the Newcastle Visitor Information Centre, in addition to the Civic Theatre, the team is passionate about Newcastle, culture, and the venues they look after, all with the view of benefitting the greater community.
As a Casual Ticketing Team Member, you'll draw upon your proven customer service skills and experience with ticketing systems to work collaboratively within a team providing our customers with a first-class experience from the moment they decide to purchase a ticket.
The ticketing team ensure that our customers have all the information they require, find their purchasing experience enjoyable, and interactions at the venue smooth and welcoming.
These are casual positions located in our busy Ticket Office, and associated venues and locations. We highly encourage you to view the attached Position Description and Duties Statements - Ticketing which describe the duties related to each available role:
Ticketing Team Member, LTCA 4
Ticketing Team Member Digital Specialist, LTCA 5 – 6
Ticketing Team Leader, LTCA 7
At CN our people are valued and have access to a range of benefits that help balance life at work and at home. These include flexible working arrangements, professional development opportunities and health and wellbeing programs.
The essentials you'll need:
Sound knowledge of Ticketing systems, especially enta.
Demonstrated computer competency and experience in receipting of cash, cheque, credit card and EFTPOS transactions.
Experience working in a customer services or ticketing environment, providing excellent service and resolving customer issues.
Confidence in sales and ability to promote the Civic Theatre, activities and events and experience meeting sales targets.
Demonstrated organisational skills, with excellent attention to detail.
A team-player who will establish positive working relationships, open to learning and always looking for ways to improve service delivery.
Excellent communication skills; able to communicate with a wide range of people, and assist all visitors in a helpful, courteous and confident manner.
Ability to work consistently without direct supervision and under some pressure.
Effective written and verbal communication skills, pleasant and cooperative demeanour and professional presentation.
Available to work shifts during the day, night and over weekends as well as flexibility to work a broad span of hours and at short notice where required.
Interest in live performance, theatre or similar.
Other valuable skills you have:
Formal qualification in a relevant field, to a minimum level of a Certificate IV or able to demonstrate equivalent practical experience.
Prior experience or understanding of Digital Marketing.
The ability to interpret and understand CRM data.
Demonstrable ability to deal with cash handling/card sales reconciliations in an accurate manner.
Experience of managing group bookings and working with Tour operators
Experience in Sales reporting using event management and ticketing systems.
Sound like the perfect job for you? Apply Now!
City of Newcastle proudly promotes the principles of Equal Employment Opportunity and fosters a culture of diversity to represent the community of our Local Government Area.
All candidates will be assessed against the selection criteria outlined in the position description. Suitable candidates may be placed on an eligibility list for future identical positions for a period of 12 months.
You must have the right to live and work in Australia to apply for this job.
Application Closing Date: Thursday, 22 April 2021.
Remuneration: Casual hourly rate of $28.93 to $33.56 (inclusive of 20% casual loading) + 9.5% Superannuation.
Contact: Leonie Wallace – Manager Civic Theatre – 02 4974 2541 or Kim Jennings – Ticketing Coordinator – 02 4974 2174.
The Civic Theatre will also be recruiting for multiple upcoming casual positions across Food & Beverage, Technical Services and Customer Experience. Please keep an eye on our Employment Opportunities page if any of these roles may be of interest.
At CN we understand the skills and attributes veterans can bring to our organisation and highly encourage veterans to apply for suitable roles.